East Oldham schools cluster dodgeball competition.
 The children at Alexandra Park are encouraged to take part in a variety of sports, but dodgeball is definately their favourite!
Alexandra Park were undefeated and are now through to the finals with the chance to represent Oldham on the Oldham School for sports games in summer.
Mr Simon Clarke, School Sports lead said
"We did it… finally winning and getting through to the dodgeball finals… just go to show what a bit of practice and resilience you can succeed. We're all proud of our Alex Park team and all the hard work they put in. "
Year 3-4 archery
Year 3/4 Archery team taking home the medals and trophy well done Laiba (class 2) who was the highest scorer… well done everyone.
Dodgeball y5/6
Year 5/6 excel Dodgeball event held today…getting second place… fantastic event and some great honesty shown by all teams.
Rugby Bee proud
Year 3/4 rugby Bee proud event six different activities based around skills required in rugby… great effort by all
MUFoundation competition
taking part in the @MU_Foundation  competition, great effort form all school and lovely to play against new schools from around Manchester
Year 5/6 archery
Fantastic effort from our Yr 5/6 Archery team tonight… well done to all who attended… we also had a couple of bullseyes which was amazing to witnes.
Manchester United museum tour – 19 Dec 2019
We visited the Manchester United Musuem Tour
Pave the way – 17 Dec 2019
Have a look at our 2nd sports celebration assembly here! We had Stacey Copeland come and visit us to talk about why diversity in sports is important. She also shared a story with us about how she was often called a boy because she liked football and boxing. A very inspirational speaker!
United Christmas Party
Lunchtime clubs
Boccia and New Age Curling – 20 November 2019
Archery – 19 November 2019
Dance club – Children in Need
Check out our Dance club taking part in the Children in Need Danceathon!
[vimeo 377028155 w=640 h=360]
OACT – Year 5/6 football
East Oldham Archery winners – November 2019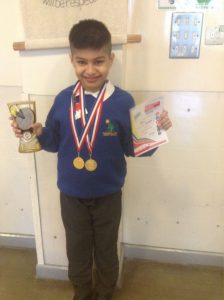 Cross country – 8 Nov 2019
Cross country… This time at Stone Leigh park. Great turn out by all and let's just say our T shirts didn't remain white … well done everyone
Archive
To view previous years' Extra curricular and before & After School clubs then click on the links below.